We've been fans of
The Hunger Games
for quite some time, and the level of expectations for the movie were all the way through the roof. Simply put, millions of people
needed
the movie to effectively portray Katniss's drive to survive, her heart, and her desire to protect those who are closest to her. We all wanted the rich and complex world Suzanne Collins created to appear on the screen, and we wanted to feel that urge to stand up and fight and to care deeply that the book made us feel.
It's hard to judge from the opening weekend numbers whether or not the movie was a success, because millions of people would've seen it no matter what, but after seeing it you can tell that they did what they set out to do. When Katniss (Jennifer Lawrence) is prowling through the woods, it's really her. She does manage to connect with her male leads, and audiences are brought into the movie in such a way that minor changes to details never seem to stick out. The supporting cast, the set and costume designers, everyone has made this a movie worth seeing.
But that doesn't mean it's perfect. One of the things that struck me throughout the movie was how much I
missed
Suzanne Collins's writing. Both Katniss's written voice and Collins's ability to squeeze so much emotion into phrases are things the movie cannot rival, and without them a little bit of the impact is lost. This is still very much a movie worth seeing, but once you do it'll be time to move on to something new in search of the next great story.
Although there'll never be another book exactly like The Hunger Games, and plenty of imitators have sprung up into the Dystopian genre lately,
Suspense
from Bestselling author Jason Letts is the one most likely to quell your hunger and ignite your enthusiasm. With reviews calling it "one of the most original stories I've ever read," this story is about how one young woman's dissatisfaction with the perfect society she lives in leads her to seek out its seedier celebrity-driven elements, creating a world that's nightmarish and yet strangely connected to our own. Fame, social networks, power struggles and murder plots enrapture the story's heroine, Spencer, until she's completely intertwined with them.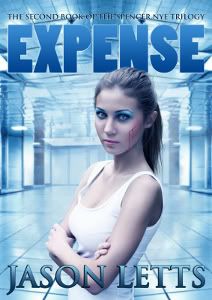 A bump up on the maturity scale (Spencer is 18 to Katniss's 16), there's a bit more violence and sexuality. The story races at a breakneck pace, living up to its name, which is the nickname of its lead character. Despite the crazy technology in the future, at the heart of the story is Spencer's devotion to her friends Jetta and Patch and the deceptively complex romance with the devilishly handsome celebrity of her dreams, Cleary Mintz. Full of surprise twists and beautiful writing of its own, the book won't let you put it down until you've plowed right through its sequel,
Expense
.
As one book blogger put it, "Spencer Nye is such a likeable, yet flawed, heroine. She doesn't always make the right choices but her heart is in the right place. Plus, I like a character that isn't afraid to stop asking questions and kill the bad guys already! Spencer's romantic interests seem pretty clear cut when you first start reading, but take an unexpected and awesome turn! Original and crazy! I can't wait to read the next one!"
If you don't have these books yet, it's time to
grab them
. And if you have them but haven't read them, it's time to pick them up!
When it comes right down to it, Dystopian books combine the tempo of a thriller, the heart of a romance, the inventiveness of an adventure, and a future that makes you think about the present. These are stories that try to say something about who we are and how we conduct our lives, while still playing into the striving we have as humans.